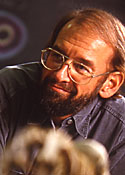 Dr. Doug Shedd, The Catherine Ehrman Thoresen '23 and William E. Thoresen Professor of Biology, Randolph College
Dr. Shedd has taught at Randolph-Macon Woman's College and Randolph College since 1978, and is retiring at the end of this year, 2020. In his 42 years, Dr. Shedd has had a great impact on the College teaching biology, sharing his research, and being an active part of our community. His research has specialized in the areas of behavior, ecology, and evolution.
In his keynote presentation, Dr. Shedd discusses a topic that is very integral to his research and teaching, and very relevant to the way we see the world, Why Darwin Matters.